3 Tips for Buying a Home Today
Posted by Lauren Perreault on Monday, August 22, 2022 at 9:18 AM
By Lauren Perreault / August 22, 2022
Comment
If you've put off house hunting for any length of time in the last two years, you may wish to restart it now that the current market situation has changed. Recent data reveals that the home supply is growing, allowing people like you more alternatives.
Even though there is more housing inventory now, it's still a seller's market. That means as you start your home search, you need to be prepared. Here are three tips for how to buy the home of your dreams today:
1. Understand How Mortgage Rates Impact Your Homebuying Power
Rates on home loans have increased dramatically this year, and they've been moving up and down quite a bit recently. It's critical to keep up with rates and understand how they might influence your purchasing power when considering a house purchase.
The chart below can help.
Let's assume your mortgage payment falls between $2,100 and $2,200 per month. The green on the chart indicates a payment that is within or below that range, while the red denotes a payment that exceeds it.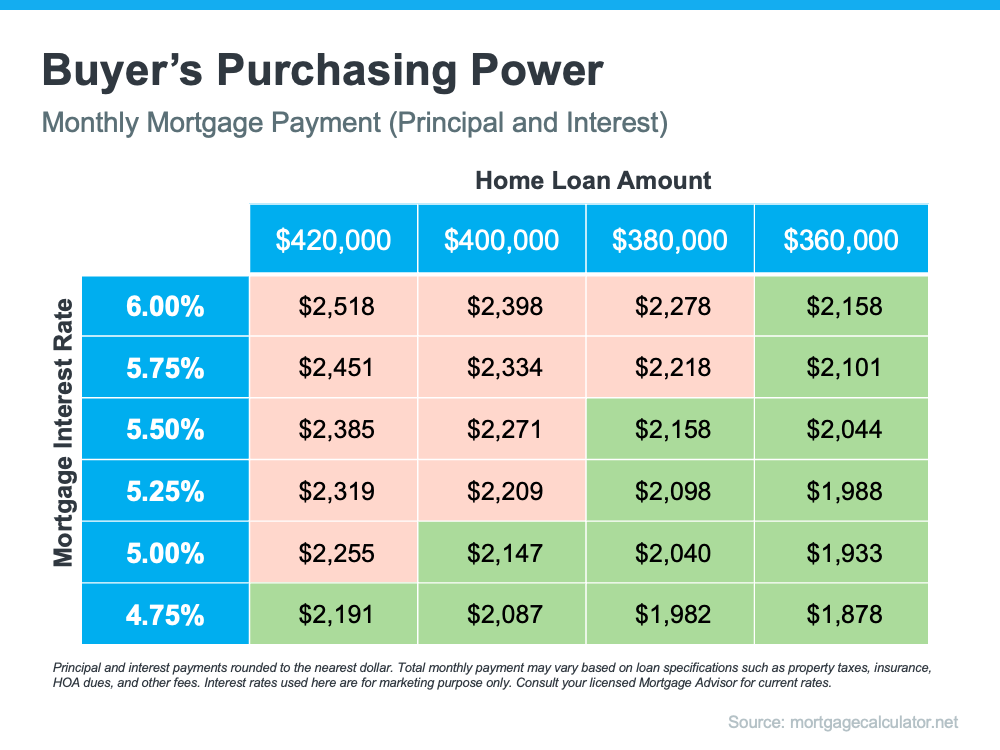 As the chart demonstrates, even a marginal change in mortgage rates can have a significant effect on your monthly payments. If rates go up, you could struggle to cover your costs unless you pursue a smaller home loan amount. However, if rates drop, your purchasing power may increase which could give you more choice in your search.
2. Be Open to Exploring Different Options During Your Search
The supply of homes for sale has increased, so you have more options. However, supply historically has been low. That means if you can't find anything that meets your requirements in the first place, it's time to broaden your search.
The Washington Post recently highlighted a few tips for today's buyers. They suggest being open to new areas, even ones you may have ruled out in the past. For example, if there's a place you initially wrote off (like a town, for instance) it might be worth giving it another look.
If you're searching for a single-family home, keep in mind that the more options you have, the better. If you can widen your search to include other housing types, such as new homes, condos, or townhomes, it will increase your pool of possibilities. Even as the number of available houses for sale increases today, casting a bigger net during your hunt might help you discover a hidden treasure.
3. Work with a Local Real Estate Professional for Expert Guidance
Ultimately, you need to be prepared when you set out to buy a home. Jeff Ostrowski, Senior Mortgage Reporter for Bankrate, explains:
"Taking the leap to homeownership can provide a feeling of pride while boosting your long-term financial outlook, if you go in well-prepared and with your eyes open."
A real estate professional is the best asset you can have no matter where you are in your homeownership journey. If You're only beginning to look for a home, they can help you understand your local market and what homes are available. And when it comes time to put an offer down, having a professional by your side will make sure that yours shines above others.
Bottom Line
Finding the home of your dreams doesn't have to be a pipe dream. If you strategically plan your search by understanding mortgage rates, casting a wide net, and building a team of experts, your chances increase dramatically. To make sure you're getting expert advice every step of the way, connect with The Perreault Group.