Home Owners Gained an Average of $64K over the Past Year
Posted by Lauren Perreault on Tuesday, June 21, 2022 at 8:24 AM
By Lauren Perreault / June 21, 2022
Comment
Home values have been on the rise for a few years now, and it looks like that trend is going to continue in 2019. According to recent data, the average homeowner has gained over $64,000 in equity over the past year. This number is only expected to go appreciate as the housing market continues to rebound. If you're a homeowner, now is a great time to consider refinancing or cashing out on your home's equity.
Because the number of properties for sale outnumbers the demand from buyers, house values are rising. As a result, your property's value has increased in today's market since it is in heavy demand. As Patrick Dodd, President and CEO of CoreLogic, explains:
"Price growth is the key ingredient for the creation of home equity wealth. . . . This has led to the largest one-year gain in average home equity wealth for owners. . . ."
Simply put, because your home's value has likely increased considerably, so has your equity. According to CoreLogic's latest Homeowner Equity Insights, the typical homeowner's equity has increased by $64,000 over the last 12 months.
While that's the nationwide number, If you want to learn more about your region, check out the map below. It compares each state's average yearly equity growth over time using data from CoreLogic.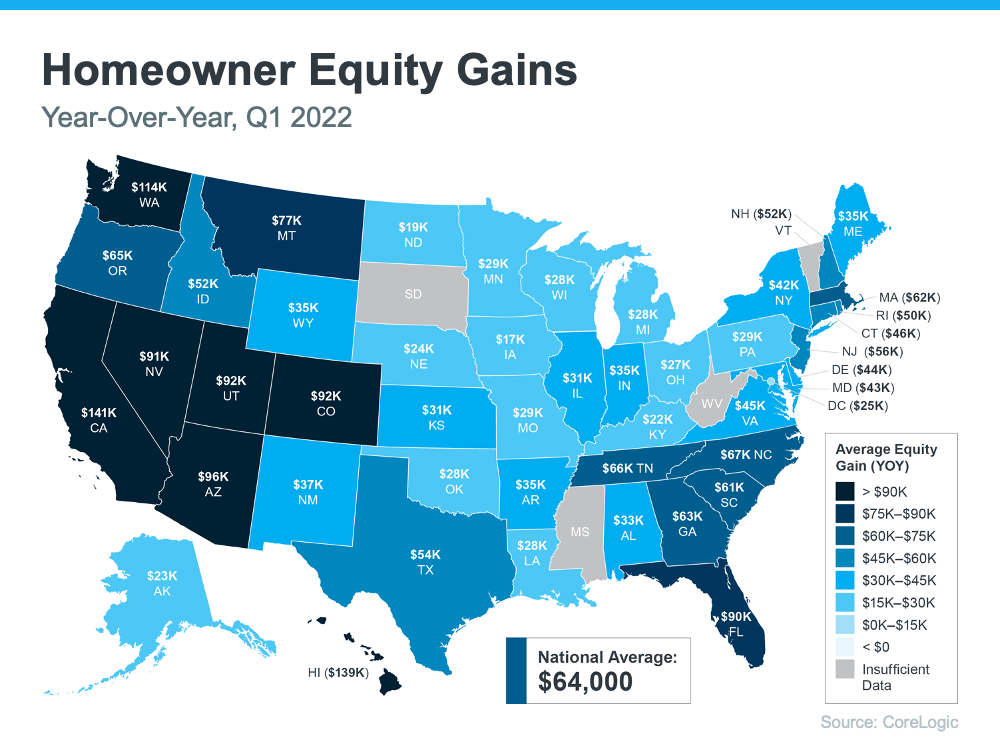 The Opportunity Your Rising Home Equity Provides
In addition to building your overall net worth, equity can also assist you in achieving various objectives, such as purchasing a house. When you sell your present property, any equity you gained is returned to you. In a market where homeowners are generating such large amounts of capital, it may be just what you need to cover the down payment on your next home.
So, if you've been sitting on the fence or scared of being priced out of your next house because of today's continuing home price rises, fear not: your equity can help power your relocation.
Bottom Line
If you're considering a relocation, the equity you've gained may make a significant difference. Connect with The Perreault Group so I can provide you with a competent equity analysis on your home and show you how much equity you have and how to use it to finance your next purchase.