If You're Thinking Home Prices Will Fall, Think Again
Posted by Lauren Perreault on Thursday, July 21, 2022 at 11:09 AM
By Lauren Perreault / July 21, 2022
Comment
Over the previous two years, house values have increased at a breakneck pace. While that resulted in substantial equity increases for homeowners, it has also prompted some purchasers to worry about whether home prices will fall. It's crucial to remember that the housing market isn't about to collapse because of a bubble about to burst, and price growth is attributed to strong market fundamentals.
To figure out why price drops are unlikely, it's critical to look at what caused property prices to rise so much in the recent past, as well as where experts believe home values will go. Here's what you need to know.
Home Prices Rose Significantly in Recent Years
The graph below illustrates the rise in home prices over the past year and a half using data from CoreLogic. In 2021, gray bars represent a substantial increase in house price appreciation. Home prices are still increasing in 2022, but at a slower rate: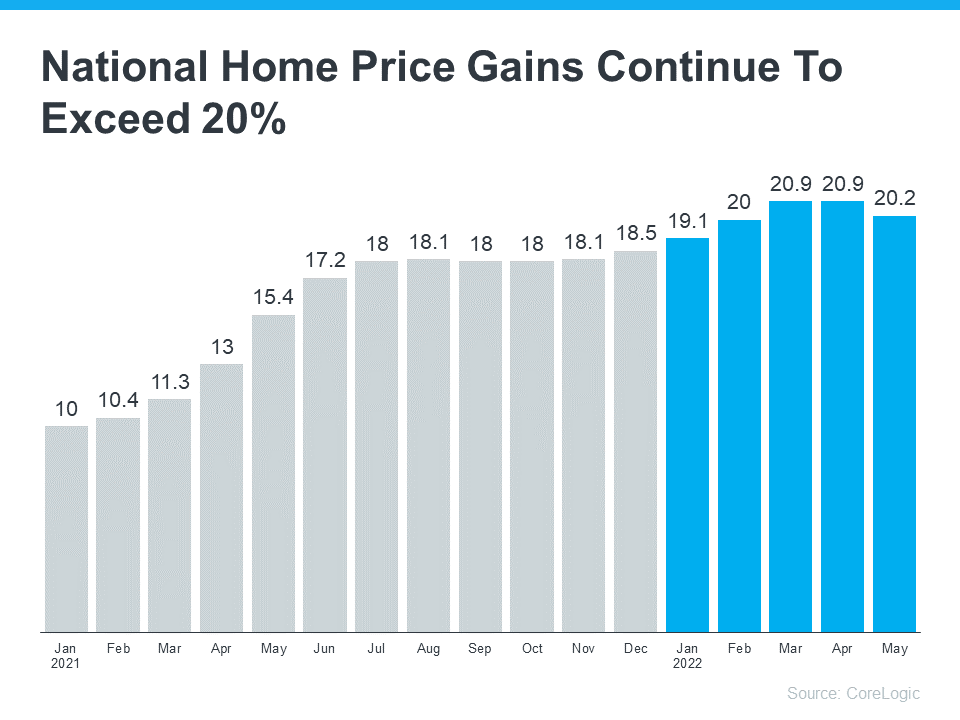 You might be thinking: why did home prices climb so much last year? Because there were more customers than houses for sale, the market experienced great pressure due to high demand and a lack of supply.
Where Experts Say Prices Will Go from Here
There is still a lack of houses for sale in the market today, despite increasing housing inventory and softening buyer demand. That's why house values are continuing to rise. Mark Fleming, Chief Economist at First American, explains:
". . .we're still well below normal levels of inventory and that's why even with the pullback in demand, we still see house prices appreciating. While there is more inventory, it's still not enough."
As a result, experts predict a more modest rate of home price growth this year, which indicates that house values will continue to rise, albeit at a slower rate. That does not imply that prices are on their way down. As Selma Hepp, Deputy Chief Economist at CoreLogic, says:
"The current home price growth rate is unsustainable, and higher mortgage rates coupled with more inventory will lead to slower home price growth but unlikely declines in home prices."
In other words, even if mortgage rates rise, buyer demand is reduced, and there are more homes for sale, experts predict that home price appreciation will slow but not stop.
If you're thinking of buying a property, don't wait for home values to decrease. Instead, purchasing right now allows you to capitalize on future price hikes by using your home equity.
Bottom Line
Home prices have risen significantly in recent years as a result of greater demand than supply. Experts are not predicting a price drop in the near future, but rather a slowdown in price growth rates. Connect with The Perreault Group right now to get an idea of what's going on with house prices in our region.