Is Homeownership Still the American Dream?
Posted by Lauren Perreault on Tuesday, July 5, 2022 at 9:09 AM
By Lauren Perreault / July 5, 2022
Comment
The American Dream is a complex concept that has been redefined over the years.
For some, it represents the idea of success and financial freedom. For others, it means having the opportunity to achieve anything they want in life. And for many people, homeownership is still an important part of achieving the American dream. Your home is your stake in the community, a strong financial investment, and an achievement to be proud of.
According to a recent survey from Bankrate, respondents put accomplishments as indicators of financial success, with the results showing that so many Americans consider homeownership important today (see graph below):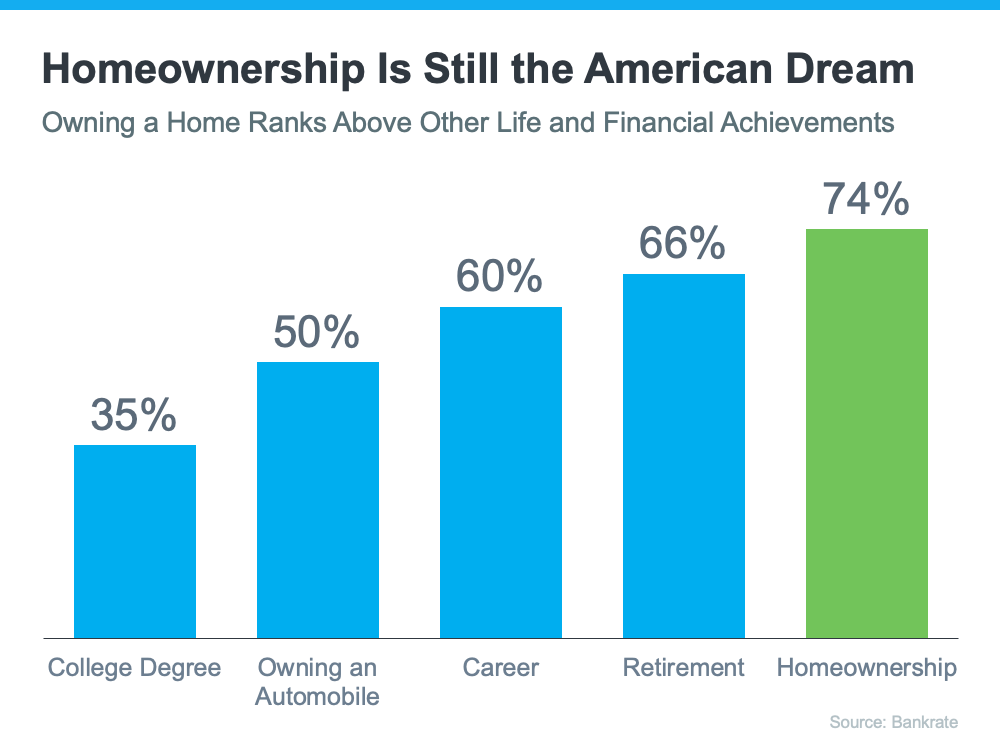 Although home ownership is commonly considered a major accomplishment in adulthood, it ranks above other significant accomplishments such as retirement, having a successful career, and obtaining a college degree according to the graph.
That might be the case. Owning a house may be a significant wealth-building instrument and, as a result, provide significant financial stability. The National Association of Realtors (NAR) offers more information on this topic:
"Homeownership builds financial security. With 65.5% of Americans owning homes, the net worth of a typical homeowner is nearly 40 times the net worth of a non-owner."
Your house may also provide a number of additional functions. The Mortgage Reports details several of the numerous advantages homeowners take advantage of, including:
Plus, Homeowners are generally more engaged in their communities. Like NAR says:
"Living in one place for a longer amount of time creates and [sic] obvious sense of community pride, which may lead to more investment in said community."
What Does That Mean for You?
If you want to achieve the American Dream, which implies more liberty and prosperity, homeownership may be able to help. When you start looking for a house, keep in mind that there are several advantages ahead for you. You'll get a place of your own where you can be most at ease and grow your wealth.
First American puts it best, saying:
"Homeownership remains central to the pursuit of the American Dream. It is a critical driver of economic mobility, delivering financial and social advantages. . . ."
Bottom Line
Purchasing a house is an important decision and an integral component of the American Dream. If homeownership is part of your personal goals for this year, connect with The Perreault Group to begin the process today.