Mortgage rates are dropping. What Does This Imply for You?
Posted by Lauren Perreault on Monday, December 19, 2022 at 12:50:53 PM
By Lauren Perreault / December 19, 2022
Comment
Over the past year, mortgage rates have been a central talking point in the housing market.. Compared to the beginning of 2022, rates have risen dramatically. Now they're dropping, and that has to do with everything happening in the economy.
Nadia Evangelou, Senior Economist and Director of Forecasting at the National Association of Realtors (NAR), explains it well by saying:
"Mortgage rates dropped even further this week as two main factors affecting today's mortgage market became more favorable. Inflation continued to ease while the Federal Reserve switched to a smaller interest rate hike. As a result, according to Freddie Mac, the 30-year fixed mortgage rate fell to 6.31% from 6.33% the previous week."
If you're looking to purchase a home, changes in mortgage rates will affect how much that home costs. A small dip in the market can actually help increase your purchasing power. Here's an explanation of how it works.
The median-priced home according to the National Association of Realtors (NAR) is $379,100. So, let's assume you want to buy a $400,000 home. Your purchasing power is different based on the mortgage rate, as you can see in the chart below. If you want to keep your monthly payment under $2,500 to $2,000 and shop at that price point, here's how your buying power fluctuates. Any payments above the threshold will be shown in red, while any that fall within your target range will appear green.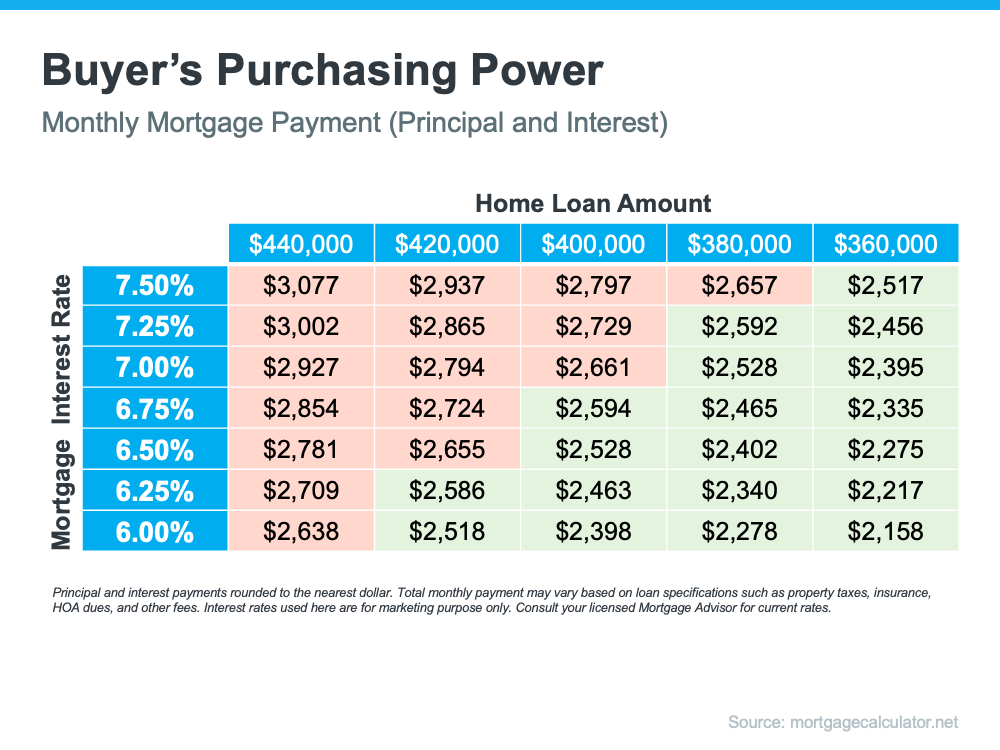 As this example demonstrates, even a tiny quarter-point change in mortgage rates can have a major effect on your monthly mortgage payment. That's why it is crucial to consult with a reliable real estate professional who tracks what the industry specialists are projecting for mortgage rates in the near and distant future.
Bottom Line
Although mortgage rates may ebb and flow depending on economic conditions, they have decreased in recent weeks. If you're not keen on a 7% interest rate, now would be a good time to speak with your lender about current rates and monthly housing expenses.