Taking Advantage of the Current Market Conditions When Buying a Home
Posted by Lauren Perreault on Tuesday, July 26, 2022 at 6:02 PM
By Lauren Perreault / July 26, 2022
Comment
Today's mortgage rates are far higher than they were at the start of the year, and that has had an obvious influence on the housing market. As a result, buyer demand and home sales are returning to the range prior to the pandemic for house prices.
But going back to pre-pandemic levels isn't necessarily a bad thing. In fact, the years preceding the pandemic were some of the most successful in housing history. That is why, as the market undergoes this shift, it's critical to compare now to the most recent normal years rather than the abnormal pandemic years in order to evaluate how robust the current housing market still is.
Higher Mortgage Rates Are Moderating the Housing Market
The ShowingTime Showing Index is a measure of the traffic on home showings conducted by agents and brokers. It's also an indication of buyer interest over time. Here's how their data has looked since 2017 (see graph below):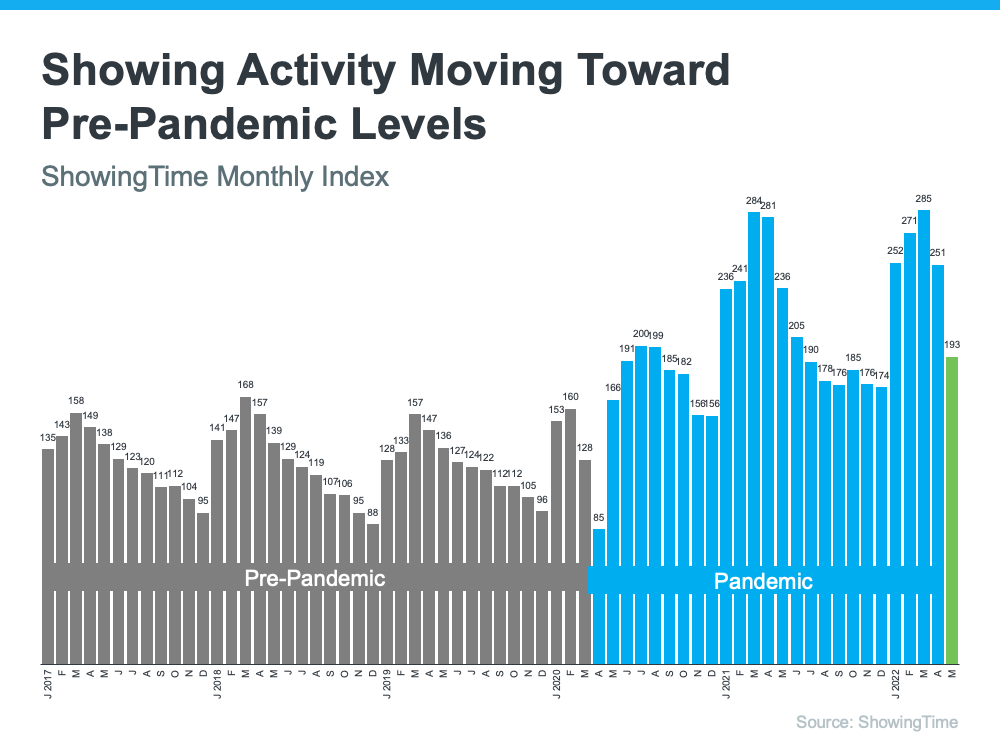 Here's a breakdown of the story this data tells:
The 2017 through early 2020 data (in gray) provide a reasonable starting point for pre-pandemic demand. Seasonality can be seen in all of these years' trends, which are zigzagging up and down.
The blue on the graph depicts the pandemic years. During the epidemic, house showings soared dramatically.
The most up-to-date information (in green), on the other hand, indicates that demand is returning toward pandemic levels.
This indicates that buyer demand is declining from those seen in recent years, and the real estate frenzy is subsiding because of higher mortgage rates. For you, it means purchasing your next home should be less challenging than it would've been during the epidemic since there are now more houses for sale.
Higher Mortgage Rates Slow the Once Frenzied Pace of Home Sales
Other changes have begun to emerge as mortgage rates began to climb in recent months. Another example is the declining rate of home sales. Here's a look at existing home sales dating back to 2017, according to data from the National Association of Realtors (NAR). A similar pattern emerges again (see graph below), with new house sales and existing home resales moving in tandem: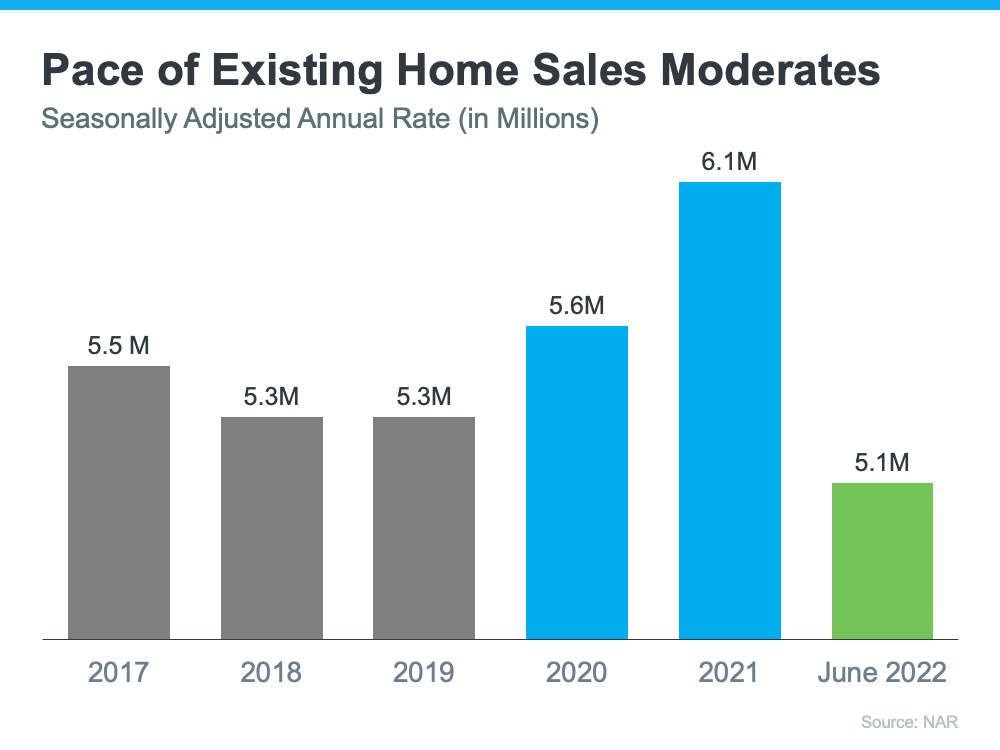 Again, the data paints a picture of the shift:
The pre-pandemic years (light gray) serve as a reference point for the number of existing home sales in more typical years.
During the pandemic years (blue), sales levels surpassed those of prior years. This is due in part to low mortgage rates, which encouraged buyer interest and home sales to new heights during that time period.
This year (in green), higher mortgage rates are having an impact, moderating buyer demand (and by extension house sales). That is why analysts predict that this year's home sales will be lower than last year's market.
Why Is All of This Good News for You?
Both of those factors have created a window of opportunity for homeowners looking to move and buyers seeking to buy a house. As housing inventory increases as demand slows, you'll have more alternatives during your home search.
Don't be scared by the media's claims that the market is cooling or moderating. The housing market remains healthy; it's just gliding off from the unsustainable frenzy it experienced during the pandemic peak — and that's a positive thing. It creates new possibilities for you to locate a property that fits your demands.
Bottom Line
The housing market is changing as a result of increased mortgage rates, yet it is still healthy. If you've been searching for a home to buy over the last few years and felt that it was too difficult, now may be your chance. It is not easy to purchase a home right now, but there is more opportunity for those willing to look. Connect with The Perreault Group so we can help you in your home buying experience.