The Benefits of Homeownership in a Rising Inflationary Environment
Posted by Lauren Perreault on Thursday, June 23, 2022 at 10:18 AM
By Lauren Perreault / June 23, 2022
Comment
There are many benefits to homeownership, especially in a rising inflationary environment. Owning a home provides stability in times of economic uncertainty and can help protect your family's wealth. In addition, there are many tax benefits to homeownership that can save you money in the long run. So if you're thinking about buying a home, now is a great time to do it.
You've undoubtedly heard about increasing inflation if you're paying attention to the news today. Today, inflation is at a 40-year high. According to the National Association of Home Builders (NAHB):
"Consumer prices accelerated again in May as shelter, energy and food prices continued to surge at the fastest pace in decades. This marked the third straight month for inflation above an 8% rate and was the largest year-over-year gain since December 1981."
As inflation increases, you'll feel its effects in your day-to-day life, such as higher gas and grocery costs. These growing consumer expenses might pinch your budget and persuade you to reconsider any major purchases you had planned.
If you've been considering buying a house this year, you're undoubtedly weighing whether to go forward with it or put it off for another year. While the decision is subjective, here are some of the ways homeownership may assist you combat rising prices.
Homeownership Helps You Stabilize One of Your Biggest Monthly Expenses
Inflation is when the general price level rises across the board. That's true for things like food, entertainment, and other goods and services, as well as housing. Rental costs and home prices are both increasing. So, as a buyer, how can you protect yourself from rising expenses? Homeownership is the answer.
You can stabilize what is usually your most expensive monthly expenditure when you purchase a house: your housing cost. When you obtain a fixed-rate mortgage on your property, you commit to paying the same amount every month for the duration of the loan, which is frequently 15 to 30 years. James Royal, Senior Wealth Management Reporter at Bankrate, says:
"A fixed-rate mortgage allows you to maintain the biggest portion of housing expenses at the same payment. Sure, property taxes will rise and other expenses may creep up, but your monthly housing payment remains the same. That's certainly not the case if you're renting."
Even if other prices rise, your housing payment will be a consistent amount that can help you stay on track with your budget. You won't have the same protection if you rent, and you won't be able to avoid rising housing costs.
Investing in an Asset That Historically Outperforms Inflation
While house prices are rising and mortgage rates are going up, buying a house now costs more than it did a few months ago, but it is still possible to establish yourself for long-term success. That's because, in inflationary periods, you want to be invested in an asset that outperforms inflation and generally increases or maintains value.
The graph below demonstrates how the typical house price increase exceeded the average inflation rate in most decades, going all the way back to the 1970s (see graph below):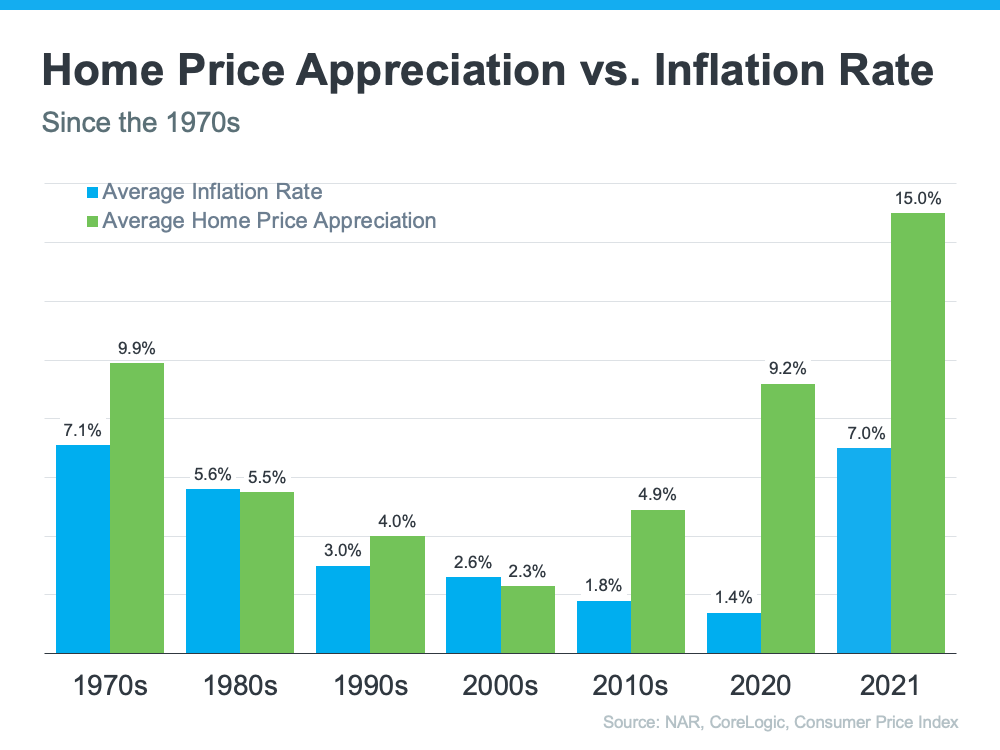 So, what does that mean for you? Now, experts predict that home prices will continue to rise and that the imbalance in supply and demand would persist. After you buy a property, any home price appreciation will grow your equity and net worth. And because houses are typically assets that appreciate in value, you'll have peace of mind that your investment is doing well.
That means if you're prepared and able, it's worth buying today before prices rise even more.
Bottom Line
If you've been thinking about buying a home this year, it makes sense to act soon, even with inflation rising. That way you can stabilize your monthly housing cost and invest in an asset that historically outperforms inflation. If you're ready to get started, let's connect so you have expert advice on your specific situation when you're ready to buy a home.