The Changing Housing Market: What You Need to Know
Posted by Lauren Perreault on Tuesday, August 23, 2022 at 9:30 AM
By Lauren Perreault / August 23, 2022
Comment
If you're thinking about selling your house, you've probably heard that the housing market has been slowing down in recent months. While it's still a sellers' market, the peak frenzy the market saw over the past two years has cooled some. If you're asking yourself if you've missed your chance to sell your house and make a move, the good news is you haven't – motivated buyers are still out there. But you do need to price your house right for today's market. Here's why.
As Lawrence Yun, Chief Economist at the National Association of Realtors (NAR), says:
"Homes priced right are selling very quickly, but homes priced too high are deterring prospective buyers."
There has been a decrease in the demand for buyers over the past few months as mortgage rates have increased, making it difficult to afford a home. This lack of demand has resulted in fewer bidding wars and less competition among buyers (as seen in the visual below):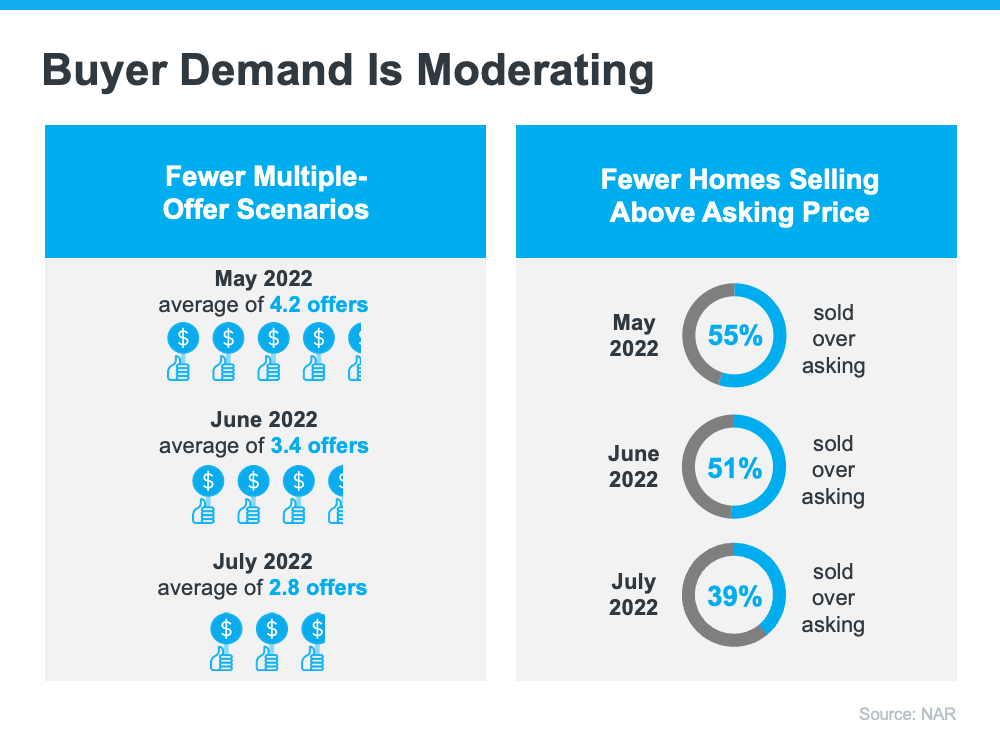 But don't forget – that's compared to the severely overheated market we saw over the past two years. According to the latest Confidence Index from NAR:
". . . 39% of homes sold above list price, down from 51% a month ago and 50% a year ago."
While this is a slower rate than at any point since July, serious buyers are still active in the market, and they're purchasing houses that are priced reasonably. In fact, the Confidence Index states that the typical house is sold in just 14 days.
If you're looking to sell your home, it's important to be aware of the current housing market and how that affects pricing. The market is constantly changing, so even if you sold your house last year or a few months ago, things have most likely changed. Even though things have shifted, it's still considered a seller's market overall.
Seek the help of a real estate professional if you're ready to sell your home. In some circumstances, you'll need to adjust your expectations in order to keep up with the market where it is now. Selma Hepp, Interim Lead, Deputy Chief Economist at CoreLogic, explains what's going on and why something happened when you sell:
"Signs of a broader slowdown in the housing market are evident, . . . This is in line with our previous expectations and given the notable cooling of buyer demand due to higher mortgage rates. . . . Nevertheless, buyers still remain interested, which is keeping the market competitive — particularly for attractive homes that are properly priced."
Bottom Line
Although the housing market has cooled from its overheating frenzy, it is still a sellers' market. Connect with The Perreault Group so you will gain an understanding of buyer demand and home prices in our local area as you prepare to enter the market.