What Does the Rest of the Year Hold for Home Prices?
Posted by Lauren Perreault on Thursday, August 11, 2022 at 5:14 PM
By Lauren Perreault / August 11, 2022
Comment
Whether you're a potential homebuyer, seller, or both, you're likely wondering if home prices will drop this year and, ultimately, what that means for your homeownership goals. Here's a breakdown of current trends in housing costs, where experts think they're headed, and how it all affects you.
Last Year's Rapid Home Price Growth Wasn't the Norm
Home prices appreciated at a rapid pace in 2021 due to the buyer's market resulting from record-low mortgage rates. This prompted more people than ever before to enter the housing market, thereby creating competition amongst bidders and driving up prices. CoreLogic helps explain how unusual last year's appreciation was:
"Price appreciation averaged 15% for the full year of 2021, up from the 2020 full year average of 6%."
In other words, the rate of appreciation in 2021 far surpassed that of the market's 6% growth in 2020. Even this increase was greater than the pre-pandemic norm, which usually hovered around 3.8%. This demonstrates how unusual 2021 was in the housing market, with more buyers than available properties on the market.
Home Price Appreciation Moderates Today
Over the past year, average home prices have slowed (or decelerated) from the breakneck rate at which they rose during the previous two years. According to current predictions, economists anticipate that homes will rise by around 10% on average across the country in 2022 (see graph below):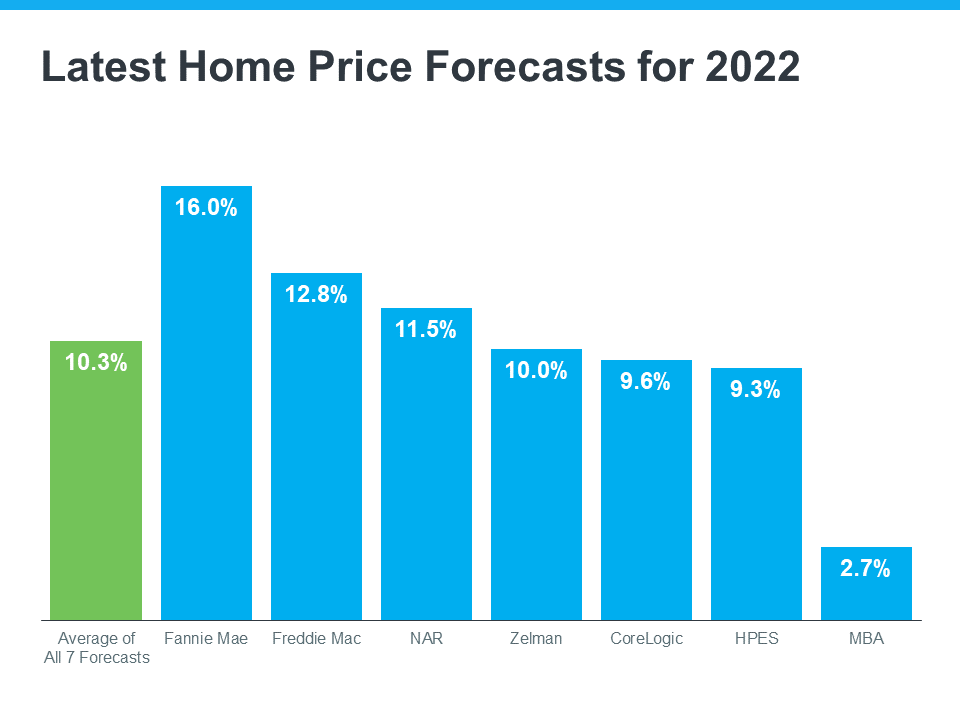 Many experts agree that home prices will continue to increase because of the current housing shortage. The supply of homes is growing, but it still low in comparison to other periods thanks to several factors- one being the long period of time where homes were not being built. According
to expert opinions, this will help keep pushing prices upwards this year. Furthermore, since mortgage rates are higher now than last year, buyer demand has decreased.
Although the market is changing, this year's price appreciation won't match last year's rapid pace. However, last year's accelerated growth wasn't sustainable.
What Does That Mean for You?
The market is returning to its state before the pandemic, but even with a 10% growth in home prices forecasted for 2022, it falls short of the 3.8% usually seen in a healthy market.
So, despite what you may have heard, experts say home prices won't fall in most markets. They'll just appreciate more moderately.
If you're concerned about your home losing value, don't be. Property experts aren't projecting depreciation for most markets; rather, they foresee a deceleration in growth. So your home will still gain value, albeit more slowly than it did last year.
Bottom Line
If you're considering relocating, don't wait for prices to drop. According to experts, this year, nationally, prices will continue to rise at a more moderate rate. Connect with The Perreault Group so that we can help you navigate the process of purchasing or selling your property from start to finish.