What To Expect From the Housing Market in 2023
Posted by Lauren Perreault on Wednesday, December 21, 2022 at 8:20 AM
By Lauren Perreault / December 21, 2022
Comment
The 2022 housing market has been defined by two key things: inflation and rapidly rising mortgage rates. And in many ways, it's put the market in a reset position.
As the Federal Reserve (the Fed) made moves this year to try to lower inflation, mortgage rates more than doubled—something that's never happened before in a calendar year. This had a cascading impact on buyer activity, the balance between supply and demand, and ultimately home prices. As a result of the changes, some buyers and sellers decided to put their plans on hold and wait until the market resumed its predictability.
But what implications does this have for next year? All of us are praying for stabilizing markets by the time 2023 arrives. In order to achieve our desired outcome, the Federal Reserve must strive to further reduce inflation and maintain steady levels. According to housing market experts, here's what we should anticipate in the coming year.
What's Ahead for Mortgage Rates in 2023?
Going forward, analysts are in consensus that inflation will continue to be at the forefront. When inflation is elevated, it's likely that mortgage rates will similarly increase.. But if inflation continues to fall, mortgage rates will likely respond. While there may be early signs inflation is easing as we round out this year, we're not out of the woods just yet. 2023 will be a crucial year to remain vigilant against inflationary forces.
At present, professionals are taking all of these elements into consideration as they forecast mortgage rates for the upcoming year. When combining the forecasts of various experts, it's been predicted that rates should begin to level out by 2023. It's difficult for experts to predict the exact range, whether it be between 5.5% and 6.5%, that these results will settle in. But based on the average of their projections, a more predictable rate is likely ahead (see chart below):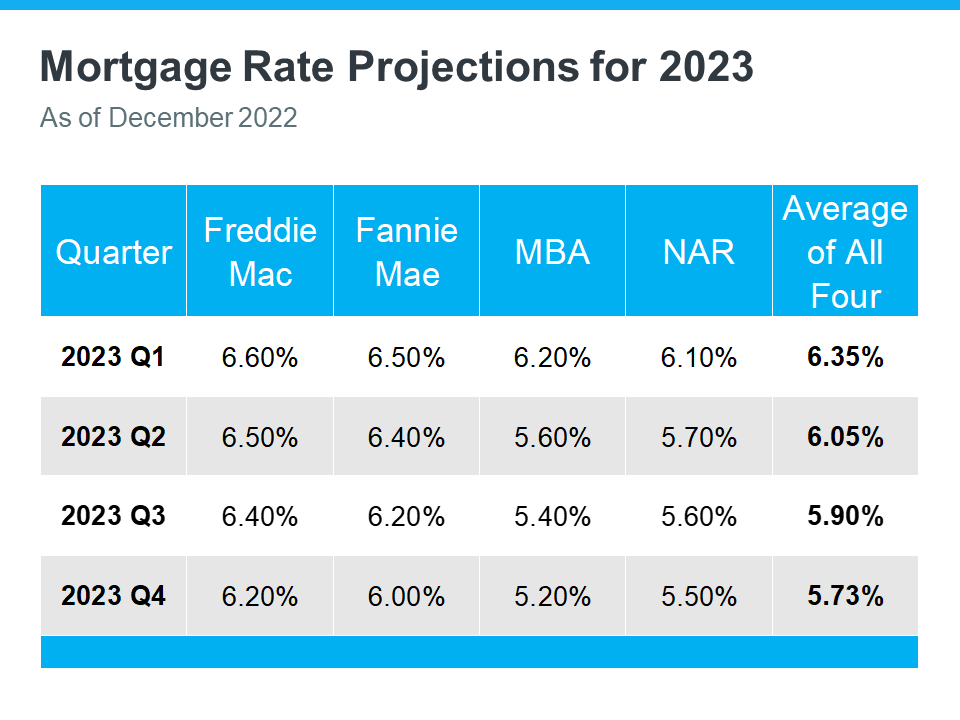 That means, we'll start the year out about where we are right now. But we could see rates tick down if inflation continues to drop. As Greg McBride, Chief Financial Analyst at Bankrate, explains:
". . . mortgage rates could pull back meaningfully next year if inflation pressures ease."
In the upcoming weeks, expect to experience some fluctuation in rates as they will likely differ. If inflation is contained, it could be of great benefit for the housing industry.
What Will Happen to Home Prices Next Year?
The law of supply and demand remarkably dictates the cost of our abodes; as there is an uptick in buyers but a decrease in homes for sale, home prices will naturally increase. This was poignantly revealed during the pandemic, when we witnessed extraordinary hikes in housing costs.
However, this year has been a different story. Home prices have stabilized, and the supply of houses has increased due to decreased buyer demand as mortgage rates become more costly. The level of moderation has varied by local area, with the biggest changes happening in overheated markets. But do experts think that will continue?
The graph below shows the latest home price forecasts for 2023. As the different colored bars indicate, some experts say home prices will appreciate next year, while others say they will come down. But again, if we take the average of all the forecasts (shown in green), we can get a feel for what 2023 may hold.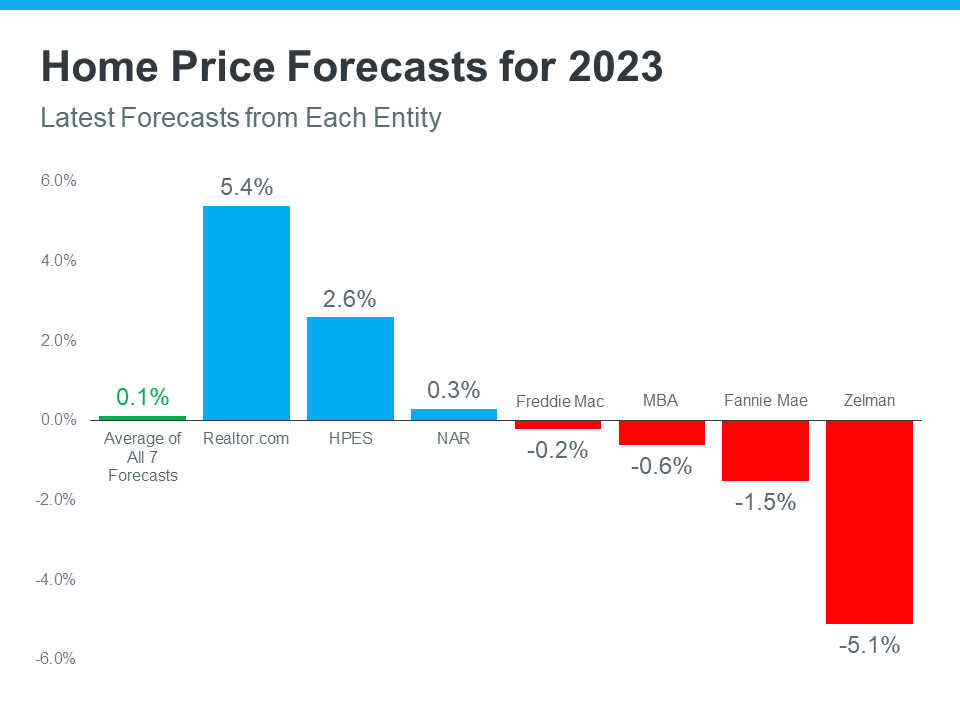 The truth is probably somewhere in the middle. That means nationally, we'll likely see relatively flat or neutral appreciation in 2023. As Lawrence Yun, Chief Economist at the National Association of Realtors (NAR), says:
"After a big boom over the past two years, there will essentially be no change nationally . . . Half of the country may experience small price gains, while the other half may see slight price declines."
Bottom Line
Mortgage rates will be the defining factor in the 2023 housing market, and their trajectory is highly influenced by inflation. To stay informed of the forecasts for this upcoming year, it's essential to reach out to a reliable real estate advisor. Contact me now and let's get started!