Why Real Estate is a Great Investment for Americans
Posted by Lauren Perreault on Monday, June 13, 2022 at 10:21 AM
By Lauren Perreault / June 13, 2022
Comment
As an investment, real estate is becoming more and more popular with Americans. More and more people are realizing that buying property is a sound investment that will appreciate over time, and they are making the switch from stocks, bonds, and other traditional investments. According to Gallup's annual survey, real estate is the top investment for the ninth consecutive year. Not only has real estate been regarded as the greatest investment for the ninth year in a row, but more Americans have selected it than ever before.
Since Gallup began asking the question in 2011, real estate has been on a steady upswing as one of the most popular choices for nearly a decade now. The graph below depicts the survey's findings.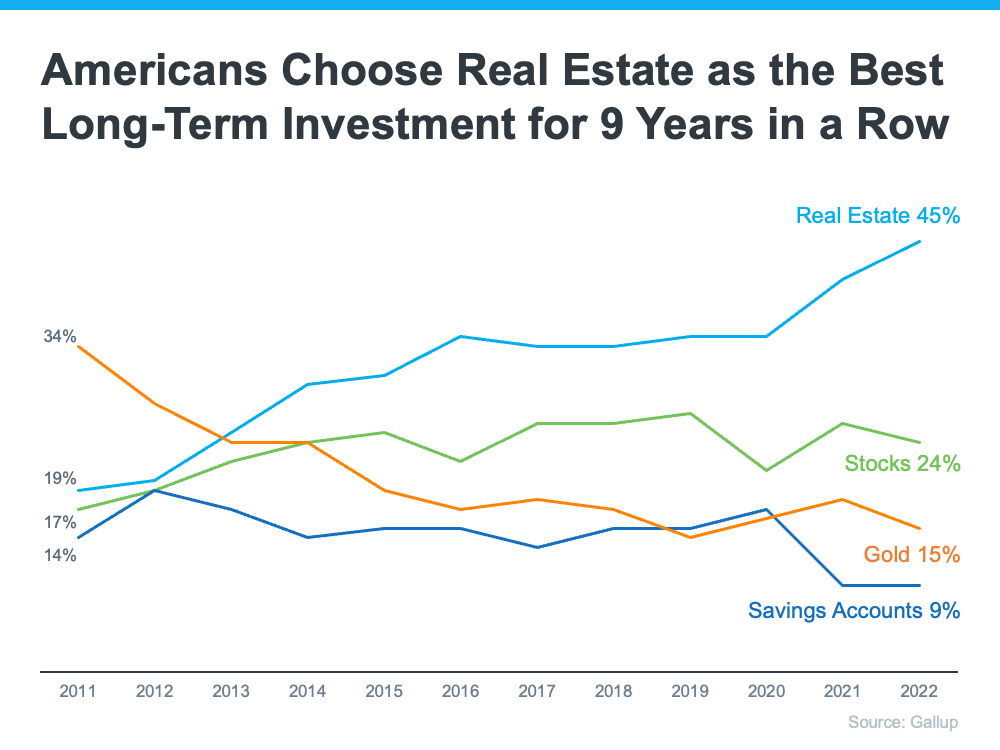 If you're thinking of buying a house, this poll will put your mind at ease. Even when inflation is high as it is now, Americans understand that owning a home is an excellent financial decision.
During high inflation, investing in real estate may offer you a number of advantages.

With inflation at an all-time high in recent 40 years years, it's more vital than ever to grasp the financial advantages of homeownership. Inflation is climbing across the board, including goods, services, housing expenses, and more, as a result of rising prices. When you buy a house, you effectively lock yourself out of future premium increases for one of your largest monthly expenses.
While homeowners may be able to deduct the cost of home improvements, renters do not have that advantage and are not protected from these hikes, especially as rents rise. According to Danielle Hale, Chief Economist at realtor.com:
"Rising rents, which continue to climb at double-digit pace . . . and the prospect of locking in a monthly housing cost in a market with widespread inflation are motivating today's first-time homebuyers."
When Inflation Has Increased in the Past, House Values Have Also Gone Up

Even during inflation, your house is a valuable asset that typically rises in value over time. That's because the worth of your home hikes when costs rise. Financial writer for Investopedia, Mark Cussen, puts it this way:
"There are many advantages to investing in real estate. . . . It often acts as a good inflation hedge since there will always be a demand for homes, regardless of the economic climate, and because as inflation rises, so do property values. . . ."
Since home values tend to rise when the economy improves, along with your net worth, homeownership is typically a good hedge against inflation.
Bottom Line
Purchasing a house is an important decision. It's no surprise why so many people regard it as the finest long-term investment, even when inflation is high. When you buy, you protect yourself against rises in your housing prices while also gaining an asset that benefits from time. If you'd like to learn more about how purchasing a home might be a fantastic investment for you, The Perreault Group can help.