Why the Forbearance Program Changed the Housing Market
Posted by Lauren Perreault on Monday, August 8, 2022 at 9:46 AM
By Lauren Perreault / August 8, 2022
Comment
Many experts predicted that the housing market would collapse when the pandemic hit in 2020. They worried about joblessness and economic uncertainty, as well as a wave of foreclosures comparable to those seen during the housing bubble burst over a decade ago. Fortunately, the forbearance program changed that. It provided much-needed comfort to homeowners, allowing another foreclosure disaster to be avoided. Here's why forbearance was effective.
Forbearance helped nearly five million homeowners get back on their feet during a period when having a home's security and protection was more essential than ever. Those in difficulty were able to work with their lenders and banks to remain in their houses rather than go into default. Marina Walsh, Vice President of Industry Analysis at the Mortgage Bankers Association (MBA), notes:
"Most borrowers exiting forbearance are moving into either a loan modification, payment deferral, or a combination of the two workout options."
With modifications, deferrals, and workout alternatives in place, four out of five homeowners in forbearance are paid in full or leave with a plan, as the graph below illustrates. They're able to maintain their residences.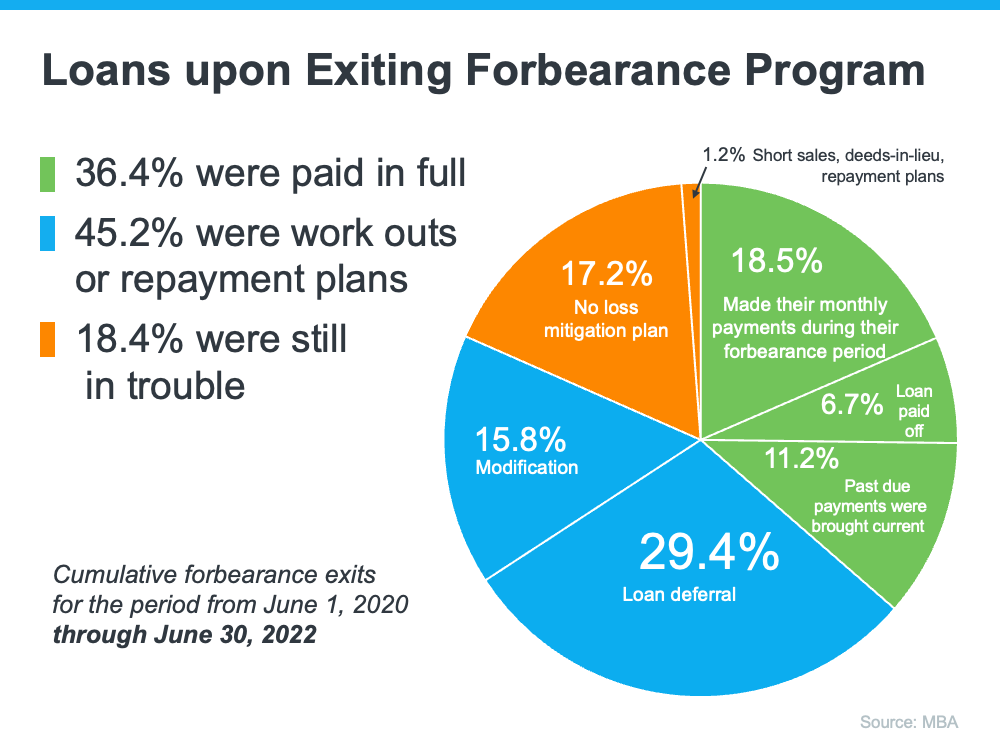 What does this mean for the housing market?
Because so many people can continue living in their homes and searching for alternative solutions, there will not be a flood of foreclosures on the market. While rising marginally since the foreclosures moratorium was lifted this year, foreclosures today are still nowhere near those seen during the housing crisis.
Forbearance wasn't the only game-changing development. Since the housing bubble burst, lending standards have improved dramatically, and that's another reason why foreclosure filings are decreasing. Today's borrowers are considerably better prepared to repay their home loans than they were before.
While the majority of homeowners leave the forbearance program with a plan, those who still need to make a change due to financial hardship or other difficulties may now benefit from today's record-high equity levels by selling their homes and avoiding foreclosure.
In the housing crisis, homeowners had fewer choices than they do now. When so many individuals owed more on their houses than their properties were worth, homeowners had few alternatives. Homeowners can sell their homes, make a change of address, and avoid having to go through the foreclosure procedure that caused the 2008 real estate collapse because of their equity and presently overabundance of houses for sale on the market.
Thomas LaSalvia, Chief Economist with Moody's Analytics, states:
"There's some excess savings out there, over 2 trillion worth. . . . There are people that have ownership of those homes right now, that even in a downturn, they'd still likely be able to pay that mortgage and won't have to hand over keys. And there won't be a lot of those distressed sales that happened in the 2008 crisis."
Bottom Line
For homeowners in financial distress, the forbearance scheme was a watershed moment. It's one of the key reasons why we won't see a flood of foreclosures on the market.