Why Today's Housing Inventory Proves the Market Isn't Headed for a Crash
Posted by Lauren Perreault on Wednesday, August 24, 2022 at 8:46 AM
By Lauren Perreault / August 24, 2022
Comment
The idea of an economic slowdown may make you feel like 2008 all over again, but the data suggests otherwise. While it's easy to understand why you might have those feelings, remember that the situation today is completely different from what it was 14 years ago.
One of the key reasons why the market won't crash this time is the current undersupply of inventory. Housing supply comes from three key places:
Current homeowners putting their homes up for sale
Newly built homes coming onto the market
Distressed properties (short sales or foreclosures)
To justify a market crash, one would have to claim that there is an overproduction of inventory in the near future. However, current data doesn't reflect this possibility. Here's a more comprehensive exploration of where today's housing market inventory is coming from to help demonstrate why a crash isn't on the horizon.
Current Homeowners Putting Their Homes Up for Sale
Although the housing supply is increasing this year, there are still relatively few existing homes available. The graph below illustrates this point well. As you can see, based on the latest weekly data, inventory is up 27.8% compared to the same week last year (shown in blue). However, when compared to the same week in 2019 (shown in red), it's still down by 42.6%.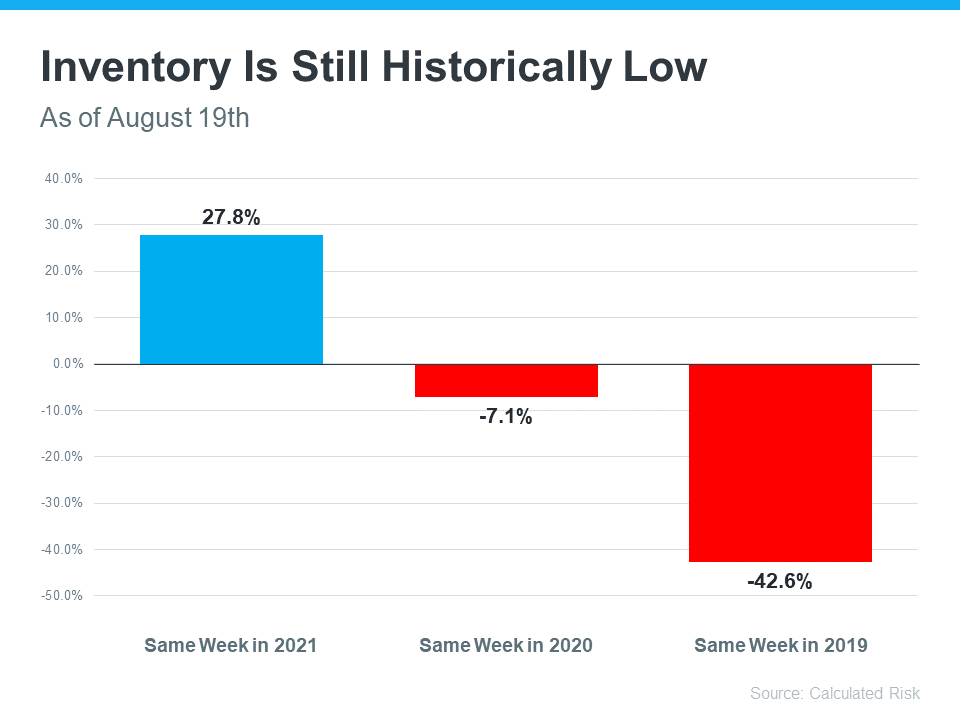 What does this mean for you? Despite the low inventory, there is still a seller's market. Prices will not crash because not enough people are selling their homes. In order to have a buyers' market, more sellers would need to put their houses on the market. However, that level of activity has yet to be seen.
Newly Built Homes Coming onto the Market
There's also a lot of discussion about what's going on with new homes today, and you might be wondering if we're overbuilding. Home builders, on the other hand, are currently slowing down their output. Ali Wolf, Chief Economist at Zonda, notes:
"It has become a very competitive market for builders where they are trying to offload any standing inventory."
To avoid repeating the overbuilding that occurred prior to the housing crisis, builders are reacting to higher mortgage rates and weaker buyer demand by slowing down their construction. It's a sign they're being deliberate about not building too many homes as they did during the bubble.
According to the latest data from the US Census, we're on track to create a seasonally adjusted annual rate of about 1.4 million homes this year at today's current pace. While this will add more supply to the market, it isn't going to result in an overabundance because builders are now more cautious than they were previously when they produced more homes than the market could handle.
Distressed Properties (Short Sales or Foreclosures)
The final inventory may be found in distressed properties like short sales and foreclosures. In the housing crisis, there was a deluge of foreclosures as a result of lax lending standards that allowed many individuals to qualify for a mortgage they couldn't really afford.
As the data from ATTOM Data Solutions on properties with foreclosure filings below shows, lending standards are much tighter today than they were during the housing crash, resulting in fewer foreclosures and more qualified buyers.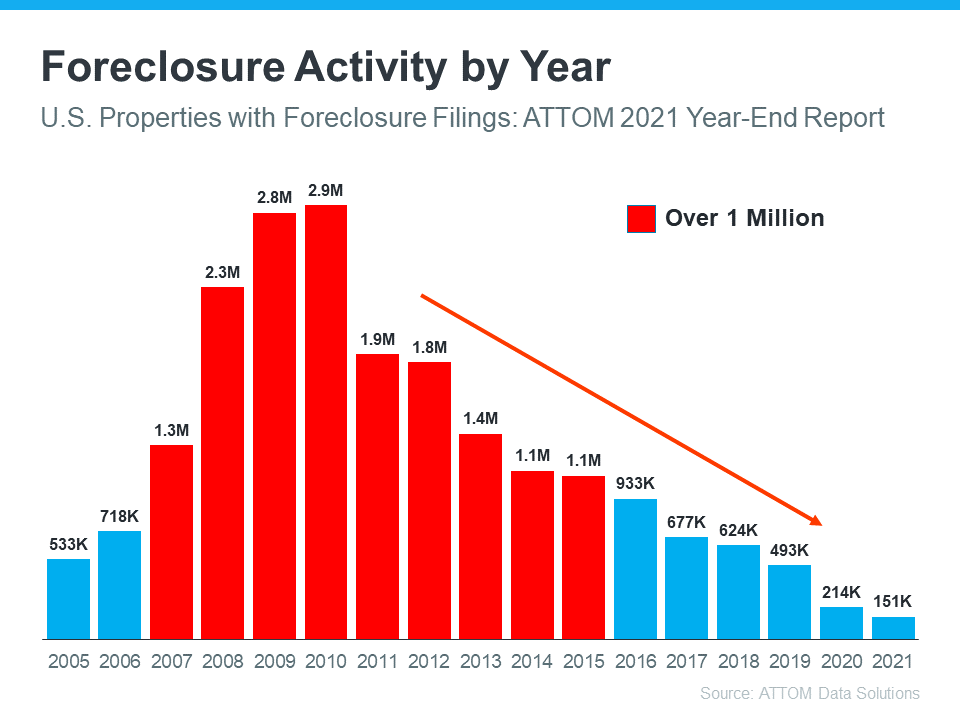 This graph demonstrates that there were over one million foreclosure filings per year around the time of the housing crash. Since then, lending standards have tightened and activity has started to decline. The forbearance program in 2020 and 2021 has further helped to prevent a repeat of the wave of foreclosures we saw back around 2008.
This program was a game-changer, allowing homeowners to choose options like loan deferrals and adjustments that they previously didn't have access to. And the data of that program indicate that four out of five borrowers who enter forbearance are either paid in full or have a repayment plan in place to avoid foreclosure. These are just a few of the key reasons there won't be a flood of foreclosures on the market.
Bottom Line
Although the housing supply is increasing this year, the market isn't anywhere near to matching it with enough inventory to drive prices dramatically downward. That's why inventory says that the housing market will not collapse.