Best Things About Selling Your Home in Today's Market
Posted by Lauren Perreault on Tuesday, May 24, 2022 at 8:39 AM
By Lauren Perreault / May 24, 2022
Comment
Selling a home can be a daunting task. But with the current market conditions, there are many reasons to sell your home now. Home prices are on the rise, and with demand outpacing supply in many areas, selling your home sooner rather than later could lead to a greater return on investment.
Many homeowners were concerned that the value of their homes would decline when mortgage rates began to go up this year. Here's some good news: In the past, when mortgage rates rise by one percent or more, home values continue to rise. Recent data on house prices show that appears to be the case.
According to data from CoreLogic, home price appreciation has been re-accelerating since November. The graph below shows this increase in home price appreciation in green: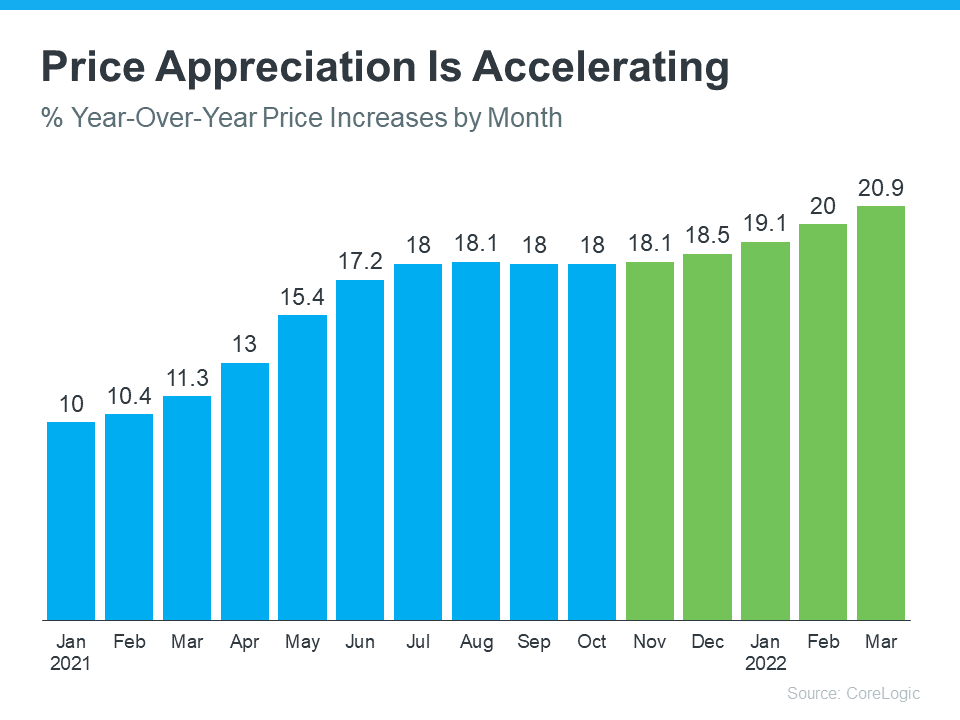 This is due to a persistent imbalance between supply and demand. Housing supply is still limited, while demand is high. When mortgage rates began to rise this year, many homebuyers rushed to make their purchases before they could go any higher. Home values increased even more as a result of the greater competition. Selma Hepp, Deputy Chief Economist at CoreLogic, explains:
"Home price growth continued to gain speed in early spring, as eager buyers tried to get in front of the mortgage rate surge."
And experts say prices are forecast to continue appreciating, just at a more moderate pace moving forward. A recent article from Fortune says:
Experts believe that prices will continue to rise at a slower pace in the future. According to a recent article from Fortune,
". . . the swift move up in mortgage rates . . . doesn't mean home prices are about to crash. In fact, every major real estate firm with a publicly released forecast model . . . still predicts home prices will climb further this year."
This Means That
If you're considering selling your house, you should know that there's a lot of money to be made by putting it up for sale. In today's home price appreciation, the value of your property increases as prices rise, giving your equity a significant boost.
The equity you build up might even be used to cover part of your down payment when you sell. And, at today's record-high rate of appreciation, that equity may be enough to cover some (if not all) of your down payment.
Bottom Line
According to historical data, mortgage rates have not had a negative influence on property prices. Despite continuous rate growth, now is still a fantastic moment to sell your home due to ongoing price appreciation. Connect with The Perreault Group when you're ready to find out how much equity you have in your current home and what's going on with local house prices.