Will There Be a Flood of Foreclosures in the Housing Market?
Posted by Lauren Perreault on Wednesday, November 30, 2022 at 1:20:03 PM
By Lauren Perreault / November 30, 2022
Comment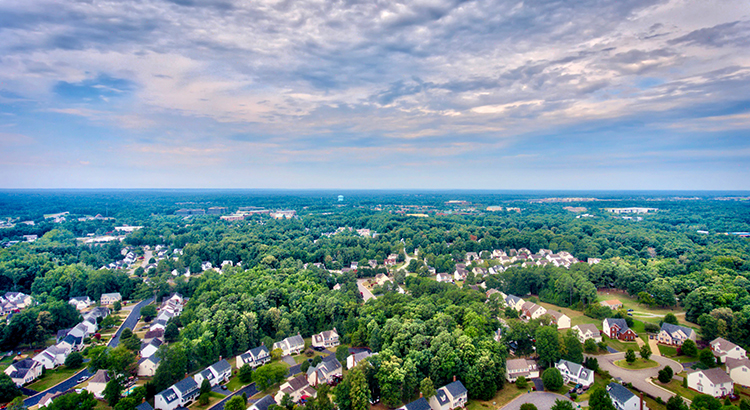 The recent transformation in the housing market has caused some individuals to worry that we might experience another housing crash similar to 2008. Although it may appear similar, the current market is quite different from the bubble in 2000. The number of foreclosures has decreased since the last market crash, so this downturn will be less severe. Although some people may be predicting a foreclosure crisis, there are several reasons why this probably won't happen.
Not as Many Homeowners Are in Trouble This Time
After the housing market collapsed, over nine million people in America lost their homes. This was either from a foreclosure, a short sale, or because they gave it back to the bank. The housing market crash was, to a large degree, caused by easier lending standards that allowed people to get mortgages they couldn't afford. The problematic lending practices eventually resulted in an abundance of distressed properties, which flooded the market and caused a decrease in home values.
Recently, stricter lending standards have created more qualified buyers. Subsequently, there is a smaller number of homeowners who fall behind on their mortgage payments. Marina Walsh, vice president of industry analysis at the Mortgage Bankers Association (MBA), says:
"For the second quarter in a row, the mortgage delinquency rate fell to its lowest level since MBA's survey began in 1979 – declining to 3.45%. Foreclosure starts and loans in the process of foreclosure also dropped in the third quarter to levels further below their historical averages."
There Have Been Fewer Foreclosures over the Last Two Years
Don't believe everything you read—while reported numbers of foreclosures are on the rise, the context is important to understand. During the pandemic, many homeowners were able to pause their mortgage payments using the forbearance program. The program gave struggling homeowners more time to get their finances in order, and in some cases, to work out a plan with their lender.
Although there were concerns that the program would result in a wave of foreclosures, those fears proved to be unfounded. Data from the New York Fed shows there are still fewer foreclosures happening today than before the pandemic (see graph below):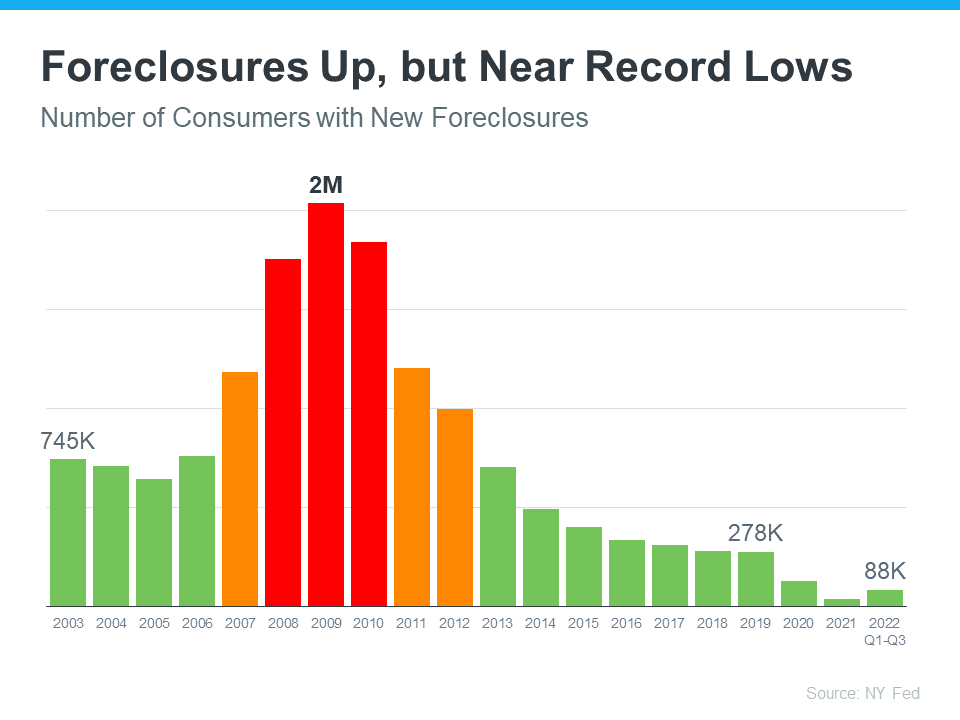 The number of foreclosures is still lower than in a more typical year, like 2017–2019.
Most importantly, however, the current number is still lower than the numbers during the market crash (shown as red bars on the graph). The main point to take away is this: don't believe everything you read in the headlines. While it's true that foreclosures have increased from last year, you can't properly judge the situation without looking at long-term data.
Most Homeowners Have More Than Enough Equity To Sell Their Homes
Many homeowners today have enough equity to sell their homes instead of facing foreclosure. Due to rapidly rising home prices over the last two years, the average homeowner has gained record amounts of equity in their home. And if they've stayed in their homes even longer, they may have even more equity than they realize. As Ksenia Potapov, economist at First American, says:
"Homeowners have very high levels of tappable home equity today, providing a cushion to withstand potential price declines, but also preventing housing distress from turning into a foreclosure. . . the result will likely be more of a foreclosure 'trickle' than a 'tsunami.'"
A recent report from ATTOM Data explains it by going even deeper into the numbers:
"Only about 214,800 homeowners were facing possible foreclosure in the second quarter of 2022, or just four-tenths of one percent of the 58.2 million outstanding mortgages in the U.S. Of those facing foreclosure, about 195,400, or 91 percent, had at least some equity built up in their homes."
Bottom Line
Keep in mind that context is important when reading headlines about the increasing number of foreclosures. Although more people are in the process of foreclosure this year than last, it is still not as high as it was before the pandemic hit. If you have questions or want to chat about this topic, don't hesitate to reach out to me.