Where Will You Move if You Sell Your House Today?
Posted by Lauren Perreault on Monday, July 18, 2022 at 10:26 AM
By Lauren Perreault / July 18, 2022
Comment
If you put a hold on your house hunting because you weren't sure where to go once you sold yours, now may be a good time to get back in the market. Because the market is undergoing a shift, and the supply of houses for sale is growing as a consequence, this is a good time to buy. That implies you have a better chance of finding an apartment that fits your present requirements. Here are some alternatives to explore.
Buying an Existing Home Can Give You That Lived-in Charm
According to the National Association of Realtors (NAR), there has been a gradually increasing supply of existing homes since the start of the year. The graph below depicts that inventory levels are increasing, with this being mostly due to an increase in new homes hitting the market and a decrease in sales volume: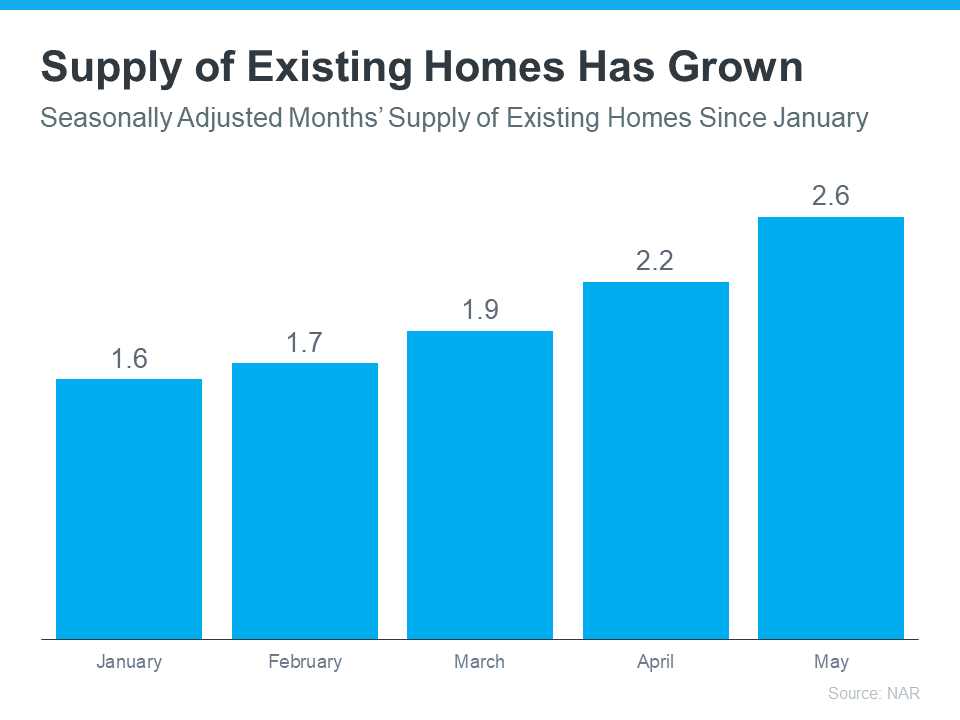 If you're seeking for a house with lived-in charm, supply is rising, and that's excellent news for you, as the graph demonstrates.
More homeowners are listing their houses and increasing the stock of existing homes today, according to Chief Economist for Realtor.com, Danielle Hale:
"Home sellers in many markets across the country continue to benefit from rising home prices and fast-selling homes. That's prompted a growing number of homeowners to sell homes this year compared to last, giving home shoppers much needed options. We've seen more homes come up for sale this year compared to last year . . ."
There are several advantages to purchasing a house that is already built. Many purchasers are attracted to houses with history, which is difficult to replicate in new construction. Existing homes may frequently be part of an established community with mature landscaping, giving you greater seclusion while also improving your curb appeal.
Furthermore, timeliness is a factor to consider. You may move in based on the timetable you agree to with the sellers rather than constructing a new house and waiting for it to be completed if you have an existing property. This should be kept in mind especially if you need to relocate fast.
Remember, while more sellers are listing their houses, supply is still limited. As a result, when looking for your next property, you'll have more alternatives to choose from, but you should still expect a fast-paced market.
Purchasing a Newly Built or Under Construction Home Means Brand New Everything
According to Census data, the quantity of new houses for sale has increased. It covers residential properties that are under construction, on the verge of completion, and already completed. This year's graph shows that the amount of new homes available for sale has also risen: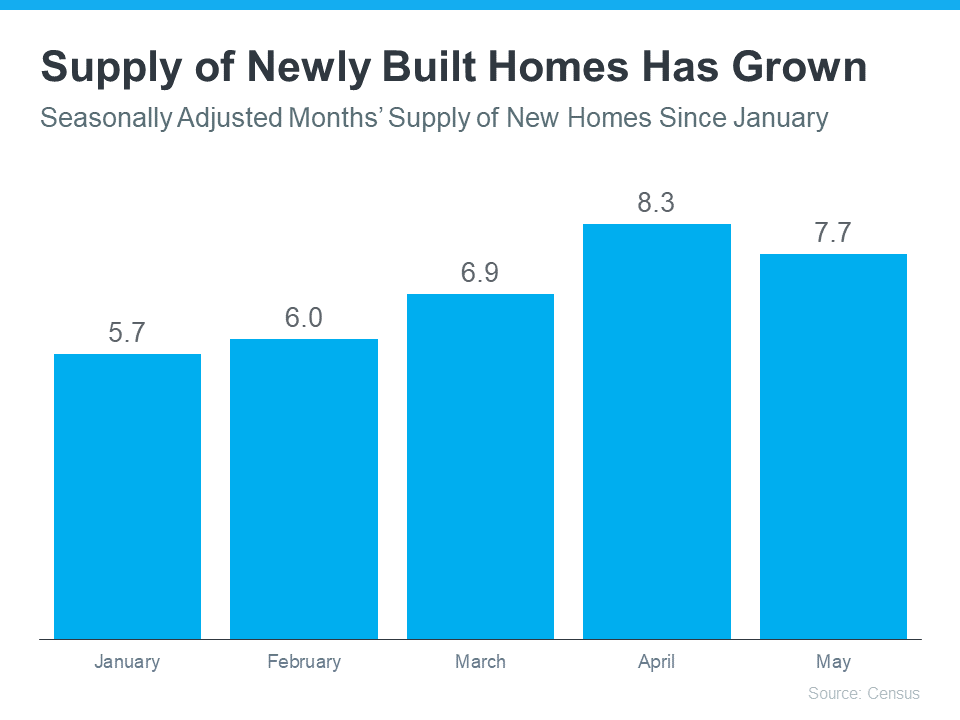 With a new house, you can create your ideal living area and adapt it to your way of life. That might imply everything from requesting energy-efficient features to specific design elements. You'll also get the benefit of all new appliances, windows, roofing, and other features. These may all assist you to save money on energy over time by lowering your cost.
Another huge benefit of a newer home is that it requires less maintenance. You won't have to deal with as many little repairs, such as leaking faucets, shutters to paint, or other minor tasks at your new house. New construction also gives you the option of warranty protection for part of your investment for the first few years.
Keep in mind that purchasing a new house might take weeks, if not months, to complete. Chief Economist and Senior Vice President for Economics and Housing Policy at the National Association of Home Builders (NAHB), Robert Dietz explains:
"New single-family home inventory remained elevated at a 7.7 months' supply. . . . However, only 8.3% of new home inventory is completed and ready to occupy. The remaining have not started construction (25.9%) or are currently under construction."
That is definitely a crucial aspect to consider when deciding which house to buy, and one you should discuss with a competent real estate advisor. They'll assist you in assessing all of the benefits and drawbacks of both new and existing properties so that you can make the best decision possible.
Bottom Line
With the number of houses for sale on the market increasing, you have a variety of options for your new house, regardless of your preferences. Connect with The Perreault Group and begin talking about it now if you have any queries or want assistance selecting what's best for you.